September 3rd, 2007 in Neola, Iowa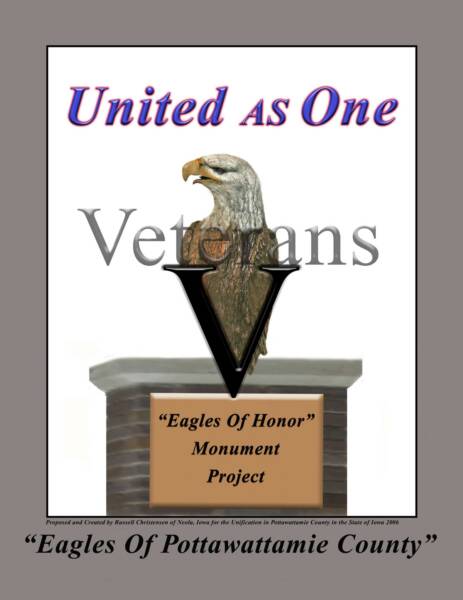 Lives

become intertwined

when

we

least

expect

it.

Two

men

look into each others eyes and see the same vision.

The

"Freedom" to

dream.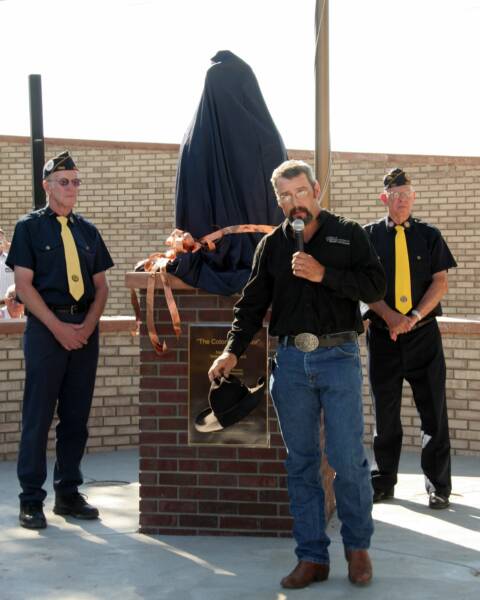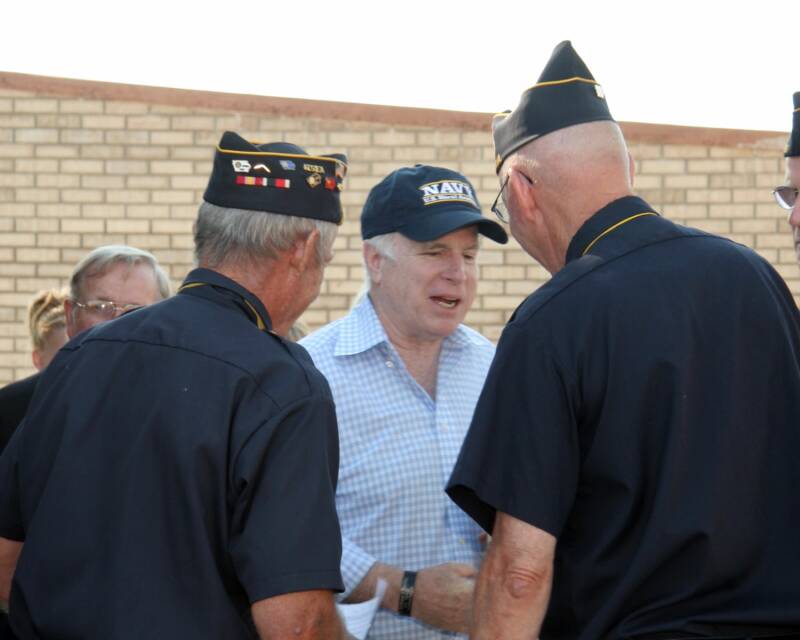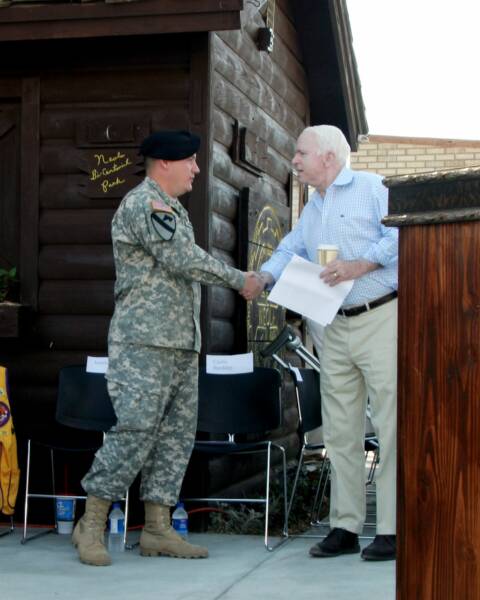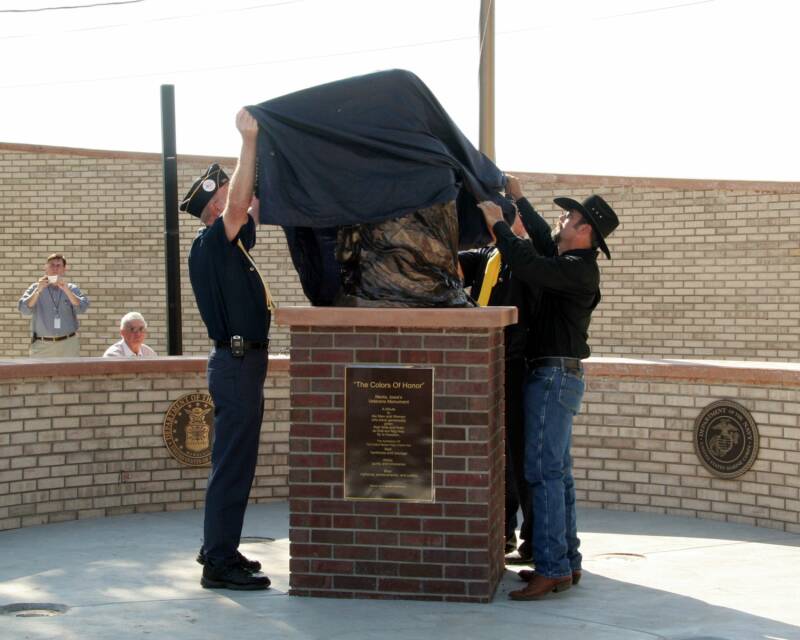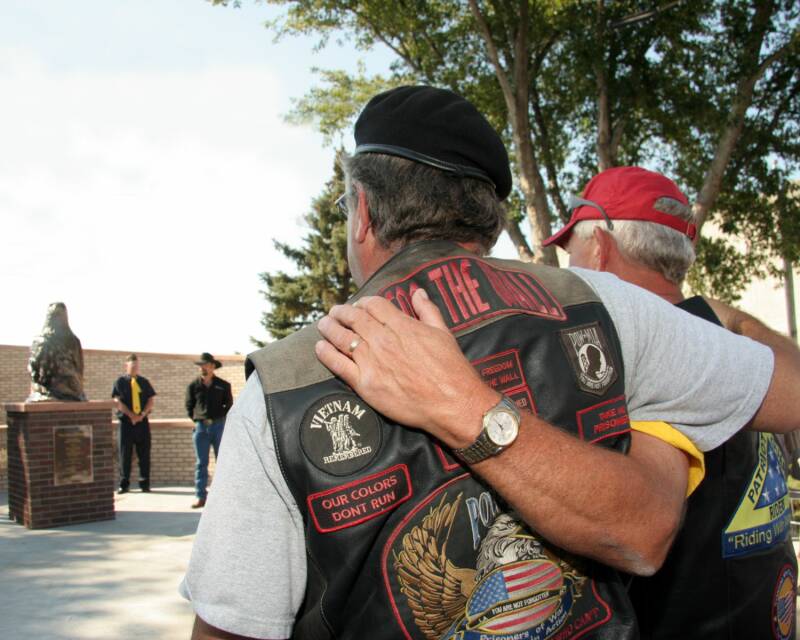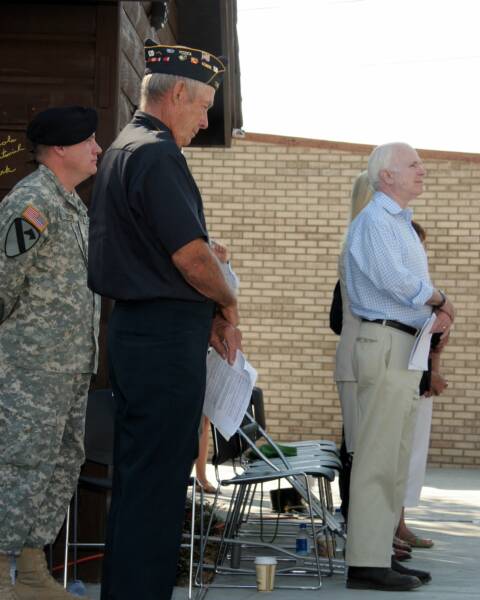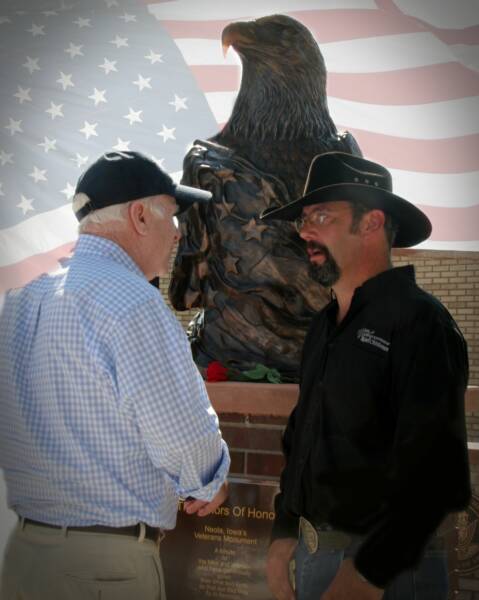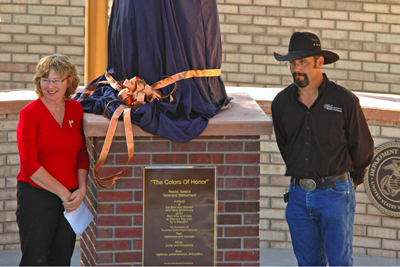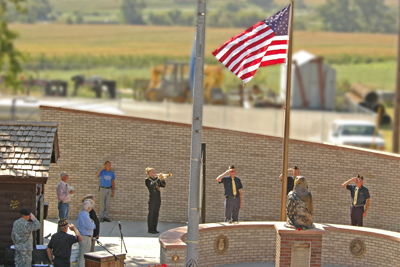 Featured speaker Senator John McCain former POW and Veteran from                Arizona with bronze artist Russell Chistensen from Neola, Iowa shortly

after the dedication.

From the beginning to the end the stars were lined up for all who were present. It was if the Heavens were opening up it's arms and embracing the hearts and minds of all.

One Man Dreamed....

many people worked ....

and a lasting vision of "Thankfulness" was created.

In the beginning Penny and Russell Christensen stand for

pictures.

In the end one rose was placed at the base of the bronze and taps were played. This was for all our fallen servicemen that have let us enjoy our days in freedom. "May we live our lives in honor to make their sacrifices not in vain."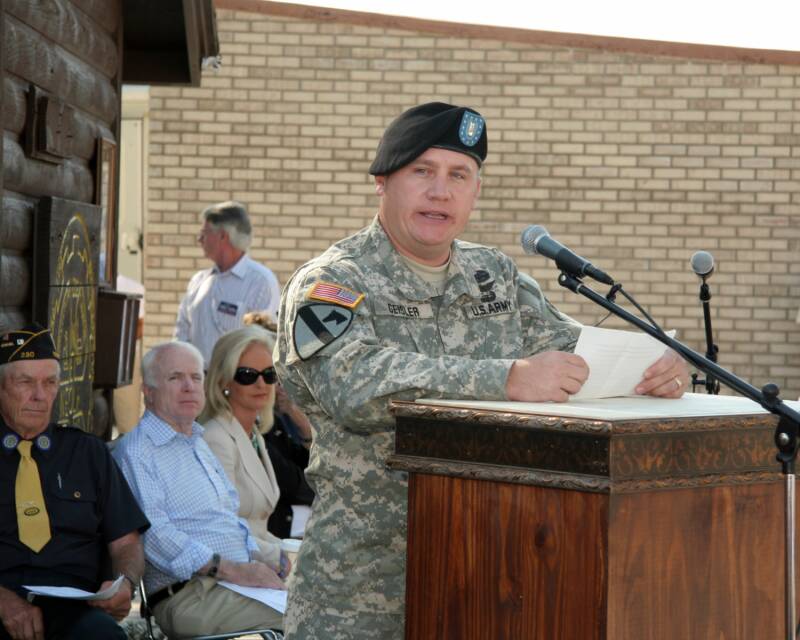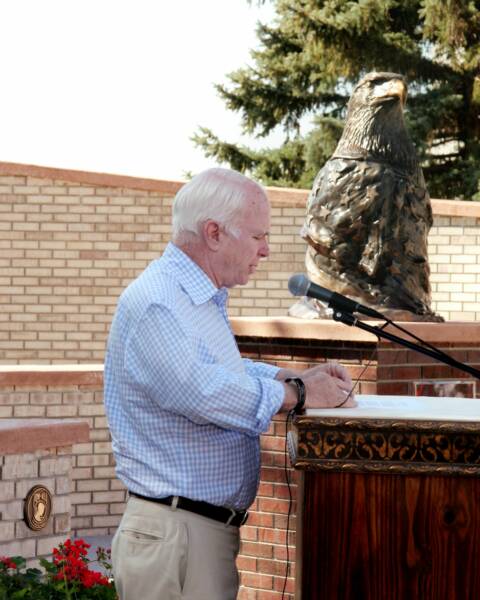 Guest speaker James Geisler, the Commander

of the 443rd Transportation Unit of the Army Reserves giving his most powerful speech.

Featured guest speaker Senator John McCain, Veteran and former POW giving his electrifying speech about his beliefs and personal accounts of being an the military.

James Geisler, Curtis Bardsley

and John McCain

An emotional moment by two American Legion Riders  as the song, "I'm Proud to Be An American' 

by Lee Greenwood sends its message

throughout the silenced crowd.

Russell Christensen takes off his ever present hat and says, "This one is for all the Veterans...I take off my hat for you and say thank you."

The veil was then lifted by veteran Lonnie Ring, veteran Don Fischer and artist Russell Christensen. The unveiling brought tears, claps and cheers of joy and admiration from the crowd.

Veteran Curtis Bardsley and veteran Don Fischer go to shake hands with Arizona Senator, John McCain.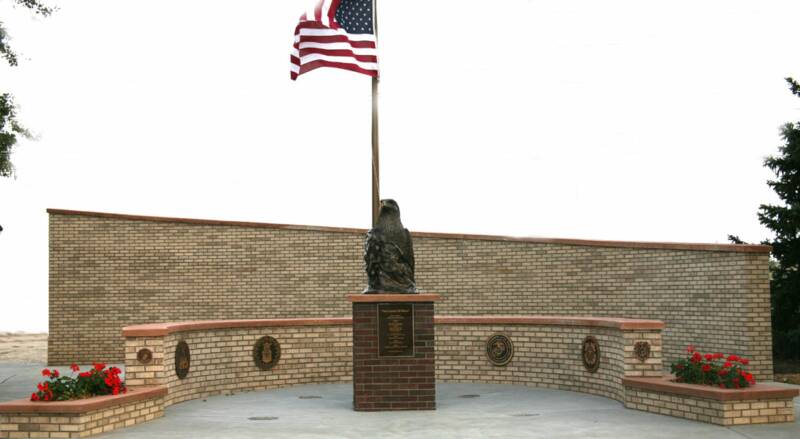 The eagle that represents the United States and the flag that is the voice of the people still stand tall and strong, even when the music has ended and the fan fare has gone home.

                                           It was a good day, September 3rd,

                                                                 for

                                                  "dreams to come true"

                                         in a little Iowa town named Neola.

  Army Reserve Commander, James Geisler, shakes hands with Arizona Senator, John McCain.

This project was made possible do to the generous hearts of hundreds of  individual people and civic groups. 

Chairman of the complete "Eagles Of Honor Project" is Pete Sorenson.

The Steering Committee for Neola is:

Chairman, Lonnie Ring

Bill and Deb Schierbrock,

Sue Hemmingsen,

Wanda Colpitts,

Pete Sorenson,

Denise Kay,

Jason Zaborowski

Artists: Russell and Penny Christensen

Lonnie Ring was one of the guest speakers.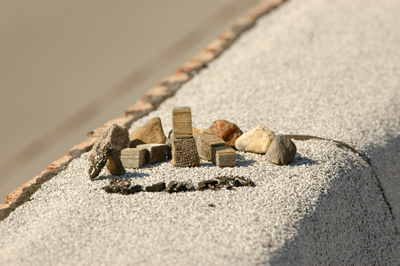 Ben Sorenson had visited the studio of artist, Russell Christensen many times while the bronze monument was getting made and had his own attachment to the project. While one day visiting, Russell let Ben, his brother Sam and dad Pete all put a star on the clay.  Ben's creative juices began to stir inside his heart.


Months later a Veterans Ceremony was getting ready to start, and a  young man's mind was busy working its magic. That young man, age 8, was Ben Sorenson from Neola, Iowa.  The same young man that had made so many memorable visits to the artist's studio. His father, Pete Sorenson climbed a ladder along with Mike Eikenberry and young son Ben. That way Mike could take pictures and all of them could view the ceremony from atop the roof of Coon's Corners, one of the local bars.

As father Pete and Mike were viewing the many people below, Ben was busy watching the whole scene. As the ceremony was about to begin Ben looked over to his Dad and said," Look what I did!" To Pete's amazement there it all was.  Through a young man's eyes the whole scene was recreated, including the people about ready to watch a memorable day in history.  Two pieces of art were celebrated that day. One from a grown man of the present, and one from a man of the future.  They both saw an empty space and created a lasting memory.
                                                We can do that in America!

The first Eagle Veterans Monument to be finished and unveiled in southwest Iowa as part of Pottawattamie County's "Eagles Of Honor Project"

Believing in the

impossible

makes the possible happen.

If you

have any doubt...

ask a Veteran

what got him

home again.